Starting on January 24, 2020 4:30 pm
UnWined at the Creek
The Chiles Group Winemakers Dinner featuring Willamette Valley Vineyards
UnWined with us under the stars for an unforgettable night at Gamble Creek Farm. Sip on Willamette Valley Vineyards exclusive offering available at Forks & Corks whilst enjoying a Chef-inspired, farm to fork, family-style 5-course dinner.
MENU
Amuse Bouche
Willamette Valley VIneyards Pinot Gris
Florida oyster on the half shell with Pinot Gris gelee and Gamble Creek Farm cilantro flowers
First Course
Willamette Valley VIneyards Riesling
Chilled pickled Florida mackerel with pickled Gamble Creek Farm fennel, cubanelle pepper, and herb salad
Second Course
Willamette Valley VIneyards Dijon Clone Chardonnay
Florida rock shrimp risotto, Gamble Creek Farm Seminole pumpkin, sage, and Parmesan cheese
Third Course
Willamette Valley VIneyards Estate Pinot Noir
Roasted Gamble Creek Farm cauliflower and eggplant, over quinoa, kale, and a black bean sesame sauce
Fourth Course
Willamette Valley VIneyards Whole Cluster Pinot Noir
Florida wild hog in La Caja China, braised Gamble Creek Farm cabbage, wild pig bacon, and grilled farm onions.
Fifth Course
Tualatin Estate sparkling Muscat
Jubilee Orchards blueberry cobbler and Gamble Creek Farm lemongrass crème fraiche
FAQ
What time does the dinner start?
4:30 - 5:30pm – Hors d'oeuvres
5:30 - 8:30pm – Seated Family-Style Dinner
What is the attire?
Men: Farmhouse Casual. Bring your boots no flip-flops.
Women: Nashville Chic. No open-toed shoes.
What is included in the ticket cost?
Dinner, wine, tax and gratuity.
---
Learn more about
Gamble Creek Farm
---
Willamette Valley Vineyards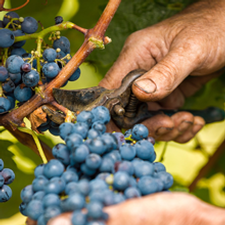 Founded in 1983 by Oregon native Jim Bernau with the dream of creating world-class Pinot Noir, Willamette Valley Vineyards has grown from a bold idea into one of the region's leading wineries, earning the title "One of America's Great Pinot Noir Producers" from Wine Enthusiast Magazine.
Building a Dream
The "budwood" of Willamette Valley Vineyards began long before its founding in 1983 by vintner Jim Bernau. His Dad, a Roseburg lawyer, was hired by a California winemaker to secure the first winery license in Oregon since Prohibition. Jim's Dad allowed small tastes of Richard Sommer's wine at the dinner table, lighting a path that led Jim from home winemaking to studies at UC Davis and eventually Beaune, France.

His early "winemaking" grew more from mischief when at the age of 10, he liberated his Mom's frozen Concord grape juice from the freezer, following the description of fermentation he found in the family's set of Encyclopedias!
In 1983, with the encouragement from winemakers making their move from California, Jim cleared away an old pioneer plum orchard in the Salem Hills, hidden underneath scotch broom and blackberry vines. Unable to afford drip irrigation, he watered them by hand using 17 lengths of 75' garden hose to get the grapelings through their first summer.
Willamette Valley Vineyards has collaboratively grown its estate vineyards through partnerships like the merger with Oregon wine industry pioneer, Bill Fuller of Tualatin Vineyards (established in 1973), the O'Briens for Elton Vineyard (established in 1983) and Loeza Vineyard (planted in 2015). The winery sources all of its barrel-aged Pinot Noir from its estate-grown vineyards and meticulously farms by hand nearly 500 acres in the valley.
Since the winery founding in 1983, stewardship of the land has been a key principle in our winemaking. We practice environmentally sustainable farming and were part of the founding of the Low Input Viticulture and Enology (LIVE) program.
Today
Jim's vision of organizing wine enthusiasts to help build a world class winery in Oregon has, over time, resulted in the winery being named "One of America's Great Pinot Noir Producers" by Wine Enthusiast. Among the winery's unique distinctions is that it's owned by more than 16,000 wine enthusiasts (NASDAQ: WVVI & WVVIP).
Our approach is to grow, by hand, the highest quality fruit using careful canopy management and yield balance, to achieve wines that are truly expressive of the varietal and the place where they are grown. We ferment and barrel each vineyard lot separately and display the best of these in our single vineyard designate bottlings. Our stylistic emphasis is on pure varietal fruit characters, with attention to depth, richness of mouthfeel and balance. The wines are truly a collaborative effort of the entire vineyard and winemaking staff.